ADAC GT Masters op Circuit Zandvoort
Verstappen.com Racing coureur Thierry Vermeulen komt van vrijdag 24 t/m zondag 26 juni 2022 op Circuit Zandvoort in actie tijdens de derde ronde van de ADAC GT Masters: de kans om autosport van dichtbij op een toegankelijke en voordelige manier met het hele gezin te beleven!

Een ticket biedt:
Toegang tot het hele circuit, van de duinen tot en met de hoofdtribune
Toegang tot de paddock
Op zaterdag en zondag een pitwalk
Op zaterdag een handtekeningensessie met de coureurs
Gratis toegang voor jeugd t/m 15 jaar
De ADAC GT Masters kent een gevarieerd startveld vol uitzonderlijke GT3-supercars van topfabrikanten zoals Audi, Lamborghini, Mercedes, BMW en Porsche. Daarnaast zorgen tijdens het weekend in de Zandvoortse duinen ook de spectaculaire Carrera's uit de Porsche Carrera Cup Deutschland en Benelux voor veel vuurwerk. Maar ook de ADAC Formule 4-talenten beloven voor spektakel te gaan zorgen.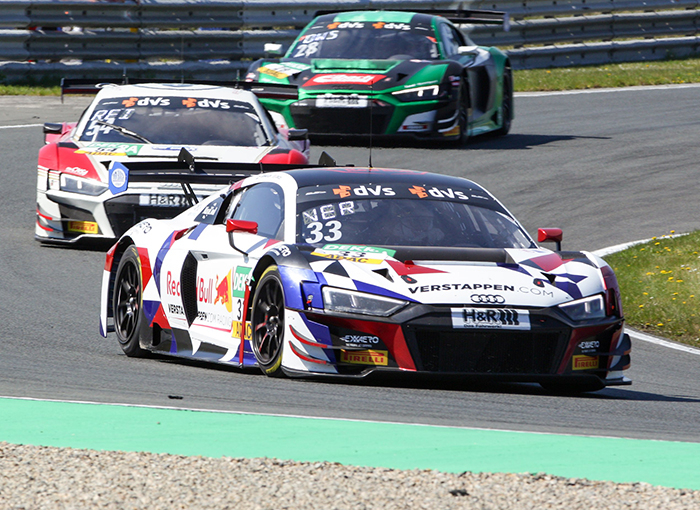 Meet the team!
Thierry Vermeulen rijdt samen met zijn teamgenoot Mattia Drudi onder de vlag van Verstappen.com Racing in een door Car Collection geprepareerde Audi R8 LMS GT3 Evo II. Deze brute raceauto heeft een V10-moter van 5,2 liter met 585pk en is herkenbaar aan de rood-wit-blauwe livery getooid met de Verstappen.com x Red Bull-logo's.


Beleef dit autosportevenement zelf en koop nu je tickets!
Een zaterdag- of zondag ticket schaf je aan voor 28 euro, terwijl een weekendticket (vrijdag t/m zondag) 46 euro kost. Dit evenement is gratis toegankelijk voor jeugd t/m 15 jaar (ten tijde van het evenement). Er dient wel een ticket besteld te worden voor toegang: selecteer hiervoor de tickets met 't/m 15' in de naam.